Mirror - exploring my Armenian roots…
...and so it happened in that wide and tumultuous land; it happened to him who was lonely - this one honest moment of self-scrutiny and self seeking. Sometimes you look at yourself in the mirror, any mirror, and you wonder why that nose looks as it does, or those eyes - what is behind them, what depths can they reach? Your flesh, your skin, your lips - you know that that face which you behold is not yours alone but is already something which belongs to those who love it, to your family and all those who esteem you. But a person is more than a face or a bundle of nerves and a spigot of blood; a person is more than talking and feeling and being sensitive to the changes in the weather, to the opinions of people. A person is a part of a clan, a race. And knowing this, you wonder where you came from and who preceded you; you wonder if you are strong, as you know those who lived before you were strong, and then you realize that there is a durable thread which tied you to a past and did not create but which created you. Then you know that you have to be sure about who you are and if you are not sure or if you do not know, you have to go back, trace those who hold the secret to your past. The search may not be fruitful; from this moment of awareness, there is nothing more frustrating than the belief that you have been meaningless. A man who knows himself can live with his imperfections; he knows instinctively that he is part of a wave that started from great, unnavigable expanses...
The Pretenders by F. Sionil Jose
A story about Dr. George Podgorny's visit to Yerevan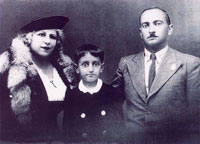 Хорошо известно, что прошлое - это зеркало будущего. Давайте ПОСМОТРИМ туда, чтобы исправить будущее. У нас более богатая, величественная и гуманная система духовных ценностей, чем таковая (если вообще существует) у тех, которые прямо или косвенно, давно или недавно противостоят нам. На протяжении нашей многотысячилетней истории мы сделали огромный вклад в развитие и обогащение мировой цивилизации и общечеловеческих ценностей. Мы верим, что еще многое можем дать человечеству!
Давайте вместе подумаем о тех, кто создавал нашу с вами историю.
Может среди них был и ваш отец? Или может быть ваш дед, или ваш предок? КАК ЗНАТЬ?
Часто мы храним молчание, не информируем молодое поколение (у нас нет времени, или чаще всего думаем, что это их не интересует. Почему?)
Если мы будем молчать, НОВОЕ ПОКОЛЕНИЕ никогда и не узнает...."
The Armenian roots of famous song composer Vladimir Muzikantov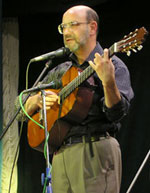 Վլադիմիր Րյուրիկովիչ Մուզիկանտովը ծնվել է 1957 թ. նոյեմբերի 23-ին, Մոսկվայում: Նրա մայրը բժշկագիտության պրոֆեսոր է: Վլադիմիրը 1980 թ. ավարտել է Ի. Սեչենովի անվ. Մոսկվայի 1-ին բժշկական ինստիտուտը և մինչև 1993 թ. աշխատել Մոսկվայի Համամիութենական սրտաբանական գիտական կենտրոնում: 1985 թ. ստացել է կենսաքիմիայի գծով գիտությունների թեկնածուի գիտական աստիճան: 1993 թ. հարազատներին թողնելով Մոսկվայում և Ուկրաինայում, կնոջ և զավակի հետ տեղափոխվել է ԱՄՆ և հաստատվել Ֆիլադելֆիա քաղաքում: Աշխատում է Պենսիլվանիայի համալսարանի դեղաբանության ամբիոնի պրոֆեսոր և դեղերը արյան հոսքով ուղղորդելու լաբորատորիայի ղեկավար: Նրա գիտական աշխատանքները նվիրված են արյունատար անոթների ներսում արյունախցանները տարրալուծելու խնդրին: Հեղինակ է ավելի քան 120 գիտական հոդվածների:
Վլադիմիրը` «Մուզան» նաև հրաշալի կիթառահար է և անվանի երգահան: 1977 թ-ից սկսել է երգեր գրել, իսկ 1979 թ-ից` դրանք գրում է բացառապես սեփական բանաստեղծությունների հիման վրա: Գրել է ավելի քան 150 երգ, որոնք կատարվում են անվանի երգիչների, վոկալ-գործիքային խմբերի, ինչպես նաև իր իսկ կողմից:
Համագործակցել է «Էխո Մոսկվի» և «Ալա» ռադիոընկերությունների հետ: Թողարկել է 3 հեղինակային լազերային սկավառակ` «Հայելի» (Նյու Յորք, 2001), «Աշխարհի քաղաքացին» (Ֆիլադելֆիա, 2003) և «Վլադիմիր Մուզիկանտովի տասնհինգ երգերը» (2004):
Hayeli